Are you ready to represent women and build generational wealth for your family and children?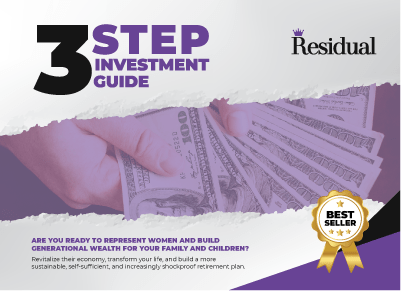 Revitalize their economy, transform your life, and build a more sustainable, self-sufficient, and increasingly shockproof retirement plan.
This 3 step investment guide was created to serve women's financial needs by providing a step-by-step system on how to organize your financial life, start generating more income, and where to invest so you create generational wealth.
Key Concepts Covered Include:


Investment Techniques: 10 Investment golden rules to follow so you don't lose money.

The difference between good cash flow investment and bad cash flow investment
Learn how you can generate income from anywhere in the world.
Learn the difference between investing time vs money
The 5 Residual Investment Buckets
Learn how and where to place your investment money.
The law of lack vs abundance
Learn how and where to educate yourself before investing
Strategies to Increase your income within the first 30 days of completing course